I am so exciting to have
Bobbie visiting today. She has a fantastic
blog. You have to check it out! Here she is
with a great tutorial:
Hello all you Mommy Time Craft Fans!
I am Bobbie from A Vision to Remember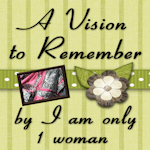 I am so excited to be Blog Swapping today with Kerstin! First off let me introduce myself. I am a stay at home mom of 2 awesome girls and one dog. They are my inspiration for sure. Everything that I have made has been for them in some way. Here are a couple of things that I have made over at my blog:
I love to make new clothes for my girls out of old clothes.
I also made this fun Ribbon skirt for my daughter (Part 1, Part 2) I also have my own Etsy shop. There I sell rag quilts, car seat tents, and lots of patterns. Some of the patterns I sell are rag quilts, belly band, and fabric flowers.
I also have many other tutorials on my blog. Make sure to stop by and check them out.
All the patterns are very easy to follow along and include pictures. Currently I have 4 different car seat tent and rag quilt patterns, a boutique ruffle blanket pattern, belly band pattern, and 4 flower tutorials available in my shop.
Now onto the fun tutorial! Today I am going to show you how to make a fun and beautiful Pleated Headband
I love a pleated beautiful headband.
Super easy to make plus it looks really great Heres how to do it: You will need a hot glue gun, a headband, ribbon (I used satin 5/8). I would use ribbon that is wider than your headband for a cleaner look
Line the inside of your headband with ribbon
Now start pleating the ribbon. Do it by hot gluing it down as you go.
Then when you get to the end of the headband cut the ribbon about an inch. Fold it over hot glue to the inside of the headband.
Look how awesome the headband looks. It looks great by itself.
Or even better with a pretty flower Thanks for swapping blogs with me Mommy Time Crafts Remember to stop on over tomorrow for the fun party! Each Saturday I host a link party cause I wanna see all the fun stuff you have been working on.